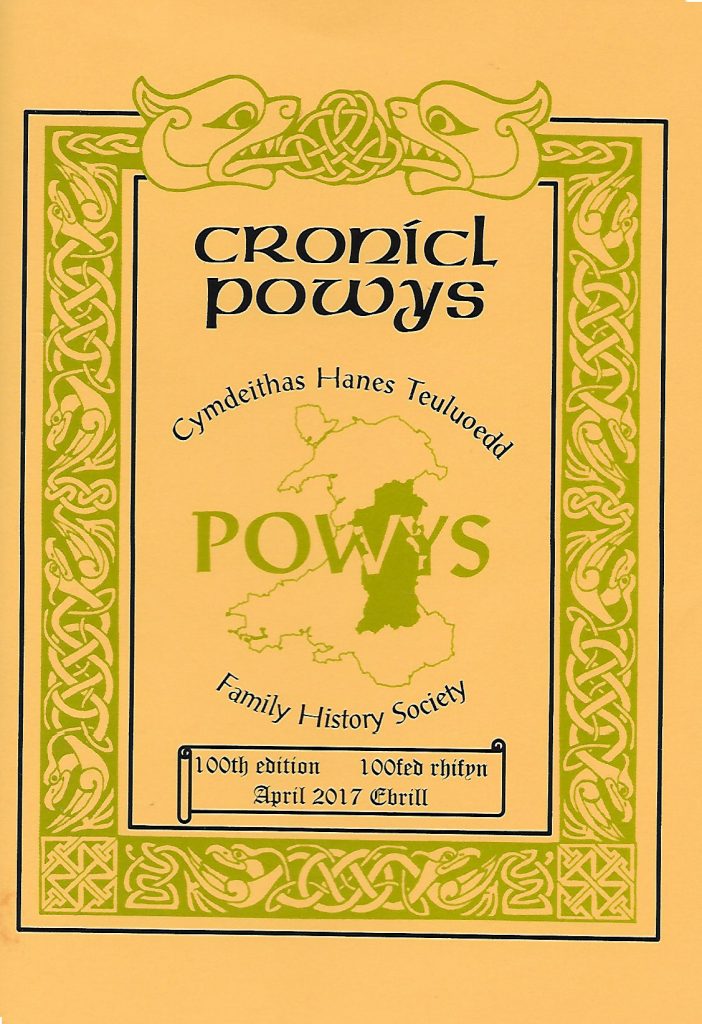 Editor: Jenny Caines, The Old Manse, Scarr, Lydeard-St-Lawrence, Taunton. TA4 3RH.
Email: jennyscarr73@hotmail.com
The Cronicl is sent out to members three times a year, in early  April, August and December. A good half of each Cronicl is made up of members contributions, which are always welcomed. If you have a story to tell, please send it in for our consideration: it doesn't have to be perfectly presented or of any specific length. Every article received will be acknowledged. I look forward to hearing from you!
The Powys FHS gallery on this site is well worth a look; if you find that your village, or the village of your ancestors, is not represented there, how about sending in a few of your own photos that can be added to our collection? Send them to me via the email above with details of location and I'll endeavour to see they are included. 
Did Shakespeare ever visit Brecon? Well, it seems so. The Vaughans of Trebarried, Llandefalle, were patrons of Shakespeare and it is supposed he stayed there in 1595. When in Breconshire he is thought to have visited Clydach Gorge, near Gilwern.
The County of Powys also produced a good many talented people over the years – here are some whose stories will be included in coming issues of Cronicl: 
Colonel George Everest – born 1790 in Crickhowell, travelled to and mapped the foothills of the Himalayas, but may never have seen the most famous mountain in the world which was later named after him.
Dame Bessie Evans was born in Llanafan Fawr and was a talented pianist and contralto soloist. She was best Contralto Soloist at the Chicago World Fair Eisteddfod in 1893 at the age of just 19.
Eleanor Bufton  born in Llanbister was a successful and respected actress of the Victorian era.
Miss Llewella Davies born Talgarth was best known as accompanist to the famous Dame Nellie Melba.
Also coming shortly – a young John Boore (1857 to 1871) wrote two poems in his school book before succumbing to an early death aged 14. The poems are entitled 'The Llanbister Rambler' and 'Llanbadarn Village'. They are a valuable glimpse into the village life that John would have known in the mid 1800s. Sadly two other siblings of John's also died young – Richard aged 11 and Elizabeth Mary aged 8, and the verse on their gravestone reads as follows:
All you that are young behold and see / How quickly death has conquered we.
Mind to take care in youth to pray / For no one knows his dying day.
—————————————————————————————————————————————
The archived Cronicls make good reading, and are now indexed, making it easier to see if your family interests have been covered at any time in the past.
A SNIPPET from the Montgomeryshire Express and Radnor Times on the 30th July 1907:
"Mr Hamer, County Inspector for food and drugs appeared unexpectedly in Llansantfraed the other day to test the weight of the local loaves and the result was that three bakers had to answer a summons for selling bread some ounces under the 4lb standard. Two defendants pleaded that they never recognised the necessity for weighing the loaf since they weighed the dough and made allowance for evaporation in the oven, while the third claimed to be exempt as he professed to sell not a 4 lb loaf but fancy bread." The Bench convicted in all cases.
____________________
IF YOU COULD SEE YOUR ANCESTORS. (Author unknown.)
If you could see your ancestors, all standing in a row, would you be proud of them, or don't you really know?
Some strange discoveries are made in climbing family trees; and some of them you know, do not particularly please.
If you could see your ancestors, all standing in a row, there might be some of them perhaps, you wouldn't care to know.
But there's another question which requires a different view…If you could 'meet' your ancestors, would they be proud of you?
The source for the poem above was Dilys Glover, a founder member of Powys FHS and longtime President until her death in early 2019.